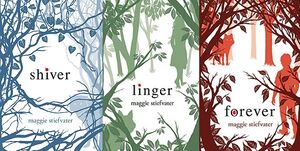 The Wolves of Mercy Falls
is a trilogy written by
Maggie Stiefvater
. The novels were released between 2009 and 2011.
The series follows seventeen year old Grace Brisbane and
her werewolf lover Sam Roth.
Publisher's summaries
Edit
Main article: Shiver
For years, Grace has watched the wolves in the woods behind her house. One yellow-eyed wolf—her wolf—is a chilling presence she can't seem to live without. Meanwhile, Sam has lived two lives: In winter, the frozen woods, the protection of the pack, and the silent company of a fearless girl. In summer, a few precious months of being human . . . until the cold makes him shift back again.
Now, Grace meets a yellow-eyed boy whose familiarity takes her breath away. It's her wolf. It has to be. But as winter nears, Sam must fight to stay human—or risk losing himself, and Grace, forever.
Main article: Linger
In Shiver, Grace and Sam found each other. Now, in Linger, they must fight to be together. For Grace, this means defying her parents and keeping a very dangerous secret about her own well-being. For Sam, this means grappling with his werewolf past . . . and figuring out a way to survive into the future. Add into the mix a new wolf name d Cole, whose own past has the potential to destroy the whole pack. And Isabel, who already lost her brother to the wolves . . . and is nonetheless drawn to Cole.
At turns harrowing and euphoric, Linger is a spellbinding love story that explores both sides of love—the light and the dark, the warm and the cold—in a way you will never forget.
Main article: Forever
The conclusion to #1 bestselling Shiver trilogy. In Shiver, Grace and Sam found each other. In Linger, they fought to be together. Now, in Forever, the stakes are even higher than before. Wolves are being hunted. Lives are being threatened. And love is harder and harder to hold on to as death comes closing in.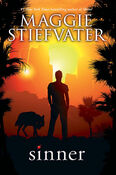 A stand-alone, companion novel in the Wolves of Mercy Falls trilogy. In Sinner, the story follows Cole and Isabel's story as they begin life in LA. Everyone thinks they know Cole's story, the haze of addiction, stardom, downfall, and disappearance. However, not everyone knows he shifts into a wolf during the cold months of the year. Once upon a time, Cole and Isabel loved each other. Now, Cole is back, and wants to be saved. Sinner is released in July 2014.